Since the introduction of mobile phones, there has been a need for a cell phone spy to help employers monitor their field employees, to help parents keep track of their children, and for locating the phone in case of loss, theft, or emergency. StealthGenie IS that cell phone monitor, working invisibly in the background on the target phone and allowing you to track the phone's movements and activity from the comfort of your own home or office.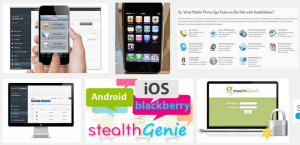 The old days: At the beginning of the cell phone era, phone companies could track where a mobile phone was by triangulating its position using the service antennas and other rudimentary features. This works, but isn't particularly accurate. Similar cell phone tracking techniques suffer from inaccuracy and the need for the target phone user to cooperate. Traditional cell phone trackers don't have a lot of tools to really be able to monitor the phone's use, either. Not having the ability to intercept messages or calls makes it difficult to really get an insight into the phone user's behaviors. Some phone service providers offer a "family tracking" feature, but it isn't very powerful. And, the phone's user knows they're being tracked and can easily avoid suspicious behaviors while using their phones. Surely, there's a better solution.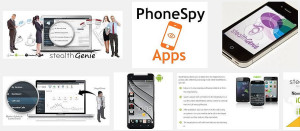 StealthGenie is the cell phone spy of the future! StealthGenie is an app that is downloaded and installed on the target phone. Once it is installed, it runs invisibly in the background without the phone's user knowing it is there. StealthGenie runs on hundreds of devices, including:
BlackBerry
Android phones
iPhone
ALL iPads
Tablets running the Android operating system
With this many supported devices, StealthGenie is sure to work as the personal cell phone spy you need! StealthGenie is compatible with any phone service provider, too. StealthGenie's features are controlled from the online user dashboard, which puts all that spying power at your fingertips. It's easy to use, and packed with monitoring tools that will blow you away. StealthGenie's features: The app provides the user with dozens of powerful monitoring features, allowing you to:
Listen in to phone calls
Listen to or record the phone's surroundings
Track the phone's movements in real time using GPS mapping
View and intercept text (SMS) messages
View multimedia files stored on the phone, including photos and videos
Read incoming/outgoing emails, including Yahoo! Mail and GMail.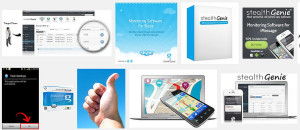 And that's not all — StealthGenie gives you complete control of the target phone, no matter where you are. It even allows you to remotely lock or wipe the phone in case of loss or theft. Protecting your valuable personal data is extremely important, and StealthGenie makes that possible. That's peace of mind! Satisfaction guaranteed: Join over 100,000 other satisfied users who have downloaded StealthGenie. The company is so sure you'll absolutely love their app that they offer one of the best guarantees in the cell phone monitoring business: if you aren't satisfied in any way, StealthGenie will refund 100% of your purchase price. The app has been positively reviewed on Android Authority, and on news sources like the BBC, Mashable, and SFGate. The company's website also features dozens of customer testimonials that show how satisfied people are with the powerful features and spying ability of the StealthGenie app. At StealthGenie, the future is today.
Why wait? Get started by downloading the StealthGenie app right now! Visit us here: http://www.stealthgenie.com/